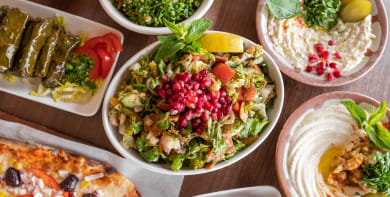 Reviews
Konrad
"Excellent as always! Great food and express delivery :)"
26/07/2021
Abdullah
"The delivery came on time and the food was great. Thank you"
24/07/2021
Deirdre
"Food is always lovely from here. I would prefer goat bread to wraps, but everything else is top notch. Hummus amazing. Baklava are delicious, and fresh."
22/07/2021
Kamil
"Perfect meal and very fast professional delivery"
13/07/2021
Menu
Contact Us
Find Us
Ballymoss Road, Dublin 18, SANDYFORD
Opening Hours
Please note, delivery times may vary.
We deliver to
Ballinteer, Ballinteerbroadford, Ballinteerludford, Ballinteermarley, Ballinteermeadowbroads, Ballinteermeadowmount, Ballinteerwoodpark, Ballybrack, Ballybrack (Dublin), Belfield, Blackrock, Blackrockbooterstown, Blackrockcarysfort, Blackrockcentral, Blackrockglenomena, Blackrockmonkstown, Blackrocknewpark, Blackrockseapoint, Blackrockstradbrook, Blackrocktemplehill, Blackrockwilliamstown, Booterstown, Brennanstown Road, Cabinteely, Cabinteelygranitefield, Cabinteelykilbogget, Cabinteelyloughlinstown, Cabinteelypottery, Carrickmines, Cherrywood, Churchtown, Churchtowncastle, Churchtownnutgrove, Churchtownorwell, Churchtownwoodlawn, Clonskeagh, Clonskeaghbelfield, Clonskeaghfarranboley, Clonskeaghmilltown, Clonskeaghroebuck, Clonskeaghwindy Arbour, Cornelscourt, Dalkeyavondale, Deansgrange, Dun Laoghaire, Dun Laoghaire Sallynoggin, Dun Laoghaireeast Central, Dun Laoghaireglasthule, Dun Laoghaireglenageary, Dun Laoghairemonkstown Farm, Dun Laoghairemount Town, Dun Laoghairesalthill, Dun Laoghairewest Central, Dundrum, Dundrumbalally, Dundrumkilmacud, Dundrumsandyford, Dundrumsweetmount, Dundrumtaney, Foxrock, Foxrockbeechpark, Foxrockcarrickmines, Foxrockdeansgrange, Foxrocktorquay, Galloping Green, Glasthule, Glencullen, Goatstown, Johnstown (Dublin), Kill Of The Grange, Killiney, Kilmacud, Kilternan, Leopardstown, Loughlinstown, Milltown (Dublin), Monkstown, Mount Merrion, Nutgrove, Rathmichael, Roseville, Sallynoggin, Sandyford, Shankill, Shankillrathmichael, Stepaside, Stillorgan, Stillorgandeerpark, Stillorgankilmacud, Stillorganleopardstown, Stillorganmerville, Stillorganmount Merrion, Stillorganpriory, Tibradden, Ticknock, Windy Arbour