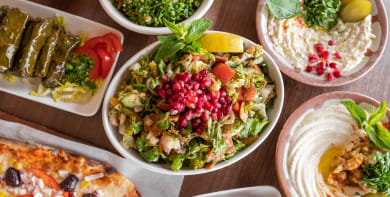 Reviews
Gamgam
"Hello, I ordered a lamb kebab with salad and fries in this restaurant and I am very impressed, because it is rare to eat so well. It was delicious. Highly recommended"
20/11/2021
Teresa
"Very tasty kebabs and chicken wings super delicious too"
06/11/2021
Sarah
"Amazing food :))"
06/11/2021
Rafael
"OMG I just had the Lamb Doner Chips and it was amazing. A very generous tasty portion. It gets even better with Garlic and Herb sauce. I will definitely order again."
02/11/2021
Menu
Contact Us
Find Us
Ballymoss Road, Dublin 18, SANDYFORD
Opening Hours
Please note, delivery times may vary.
We deliver to
Ballinteer, Ballinteerbroadford, Ballinteerludford, Ballinteermarley, Ballinteermeadowbroads, Ballinteermeadowmount, Ballinteerwoodpark, Ballybrack, Ballybrack (Dublin), Belfield, Blackrock, Blackrockbooterstown, Blackrockcarysfort, Blackrockcentral, Blackrockglenomena, Blackrockmonkstown, Blackrocknewpark, Blackrockseapoint, Blackrockstradbrook, Blackrocktemplehill, Blackrockwilliamstown, Booterstown, Brennanstown Road, Cabinteely, Cabinteelygranitefield, Cabinteelykilbogget, Cabinteelyloughlinstown, Cabinteelypottery, Carrickmines, Cherrywood, Churchtown, Churchtowncastle, Churchtownnutgrove, Churchtownorwell, Churchtownwoodlawn, Clonskeagh, Clonskeaghbelfield, Clonskeaghfarranboley, Clonskeaghmilltown, Clonskeaghroebuck, Clonskeaghwindy Arbour, Cornelscourt, Dalkeyavondale, Deansgrange, Dun Laoghaire, Dun Laoghaire Sallynoggin, Dun Laoghaireeast Central, Dun Laoghaireglasthule, Dun Laoghaireglenageary, Dun Laoghairemonkstown Farm, Dun Laoghairemount Town, Dun Laoghairesalthill, Dun Laoghairewest Central, Dundrum, Dundrumbalally, Dundrumkilmacud, Dundrumsandyford, Dundrumsweetmount, Dundrumtaney, Foxrock, Foxrockbeechpark, Foxrockcarrickmines, Foxrockdeansgrange, Foxrocktorquay, Galloping Green, Glasthule, Glencullen, Goatstown, Johnstown (Dublin), Kill Of The Grange, Killiney, Kilmacud, Kilternan, Leopardstown, Loughlinstown, Milltown (Dublin), Monkstown, Mount Merrion, Nutgrove, Rathmichael, Roseville, Sallynoggin, Sandyford, Shankill, Shankillrathmichael, Stepaside, Stillorgan, Stillorgandeerpark, Stillorgankilmacud, Stillorganleopardstown, Stillorganmerville, Stillorganmount Merrion, Stillorganpriory, Tibradden, Ticknock, Windy Arbour